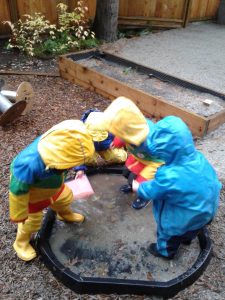 Children seek out all things sensory: it is natural for them to explore the world this way. Mud puddles are very appealing to children for this reason; they love to jump and play in them feeling the mud on their hands and on the soles of their feet. Sometimes we see a child that is spinning in circles, seemingly just for fun, but this is actually a sign that they need that sensory input. As children grow, movement and physical play facilitate the development of new brain connections, so their active play is actually helping their brains develop. Over time these connections progress and the child's fine and gross motor skills, socialization, personal awareness, language, creativity, problem solving and learning ability are improved.
At Mongio, we try to facilitate all sorts of experiences for the children, and we do not shy away from messy sensory play, as we recognize the positive impact it has on children's development. Therefore, we believe it is essential that children climb, jump, run and splash in puddles. These are all natural and necessary experiences that will encourage their cognitive development. Playing in puddles also promotes cardiovascular health, as they run and exert themselves and improves their balance as well. Best of all, it promotes great sleep after a fun day playing in the puddles!
To see more of our curriculum please check our Facebook Page.